How we can help with your project
27 December 2021 by Darren Leach
We are frequently asked by prospective clients if they have to sign up for our full services from the outset, or if they can take it one step at a time. The answer is it is completely up to you. We love being involved from start to finish – coming up with ideas, working out what's possible, taking the designs through the planning process (including listed building consent), doing the detailed drawings, and overseeing construction – however we can appreciate that this might not be for everyone.
You might be excited about going it alone once we've developed the design and got planning approval for your scheme, and that's possible too. Or you might want to take it one step at a time through the design stages. We can test out ideas with you, establish whether they're feasible and affordable, and then you can decide whether to take it further. Since the pandemic struck, we have found that more new clients are choosing to work with us in this way.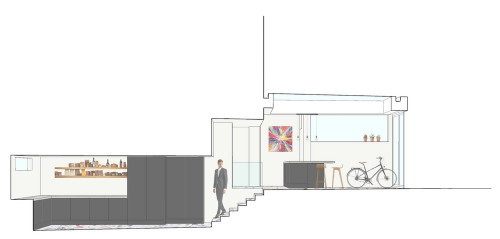 A New Service
This got us thinking… how can a small practice like ours – with big ideas! – share the benefits of architecture with as many people as we can? We are very excited to share with you a new service that we will be launching in the New Year exclusively for our clients: we will be able to offer our concept design service ('taking shape') for a fixed fee published on our website for all to see. You will be able to pay for this up-front and book your initial and subsequent meetings from our live calendar.
This might not sound particularly ground-breaking, but architects are notoriously secretive about their fees. Put it to the test if you don't believe us – first find your local architect's website… then find their fees! To cut a long story short, this stems from the RIBA abolishing their fee scales back in 2009, in favour of a free market. Whilst we are confident we will not be the cheapest, we are more confident we will be a good fit, if you like the sound of our studio of course!
We know that it's a lot of money, but we can promise you won't be disappointed: we come to your project with open eyes and ears, and with honesty, curiosity and care. Whilst we listen before we do anything else, it may well be that we misheard you – if our concept design (we love this stage!) does not spark joy by making you smile, then we will take it back to the drawing board free of charge until it does.
Added Value
In addition, historically we have charged expenses on top of our fees, which whilst buried in our T&Cs can still come as a surprise. It also feels a bit petty for us to charge you 45p a mile, when chances are we got to you and back on pure electric! Similarly we like to print drawings out because we are 'old school' (we learnt how to draw with drawing boards, but now use 3D CAD and even VR!) and this is our choice rather than necessity to recharge to you. At this stage of the project we know what these will be, so will absorb these into the 'bottom line' going forward.
Later in the year, we will be looking at how to revolutionise our fees up to tender (launching after the Easter school holidays) and during construction (launching after the Summer school holidays) to improve our offering across all work stages. We currently charge a percentage fee and time-charge fee for these respectively, the reasons for which are explained – we think! – in this blog post.
Many of our projects started life like this, with most of our clients keeping us on, which means we must be doing something right! We are always happy to lend an ear, so if our mission aligns with yours then do pick up the phone or drop us a line. We will give you some initial advice on what might be possible within the constraints of planning and your budget, as well as a rundown of our process and a rough idea of timescales from beginning to end (pandemic permitting!). Speak soon, we hope…
We'd love to hear from you if your mission fits with ours.
Get in touch
Subscribe to our newsletter mailing list