Our studio
This is the two of us - with Darren on the left and Simon on the right.
So why George & James?
Because those are our middle names, and when we were scratching our heads over the kitchen table all those years ago, we liked the sound of it. Simon & Darren didn't have quite the gravitas we wanted, and Drayson & Leach - our surnames - made us sound a little too corporate, like the world we'd left behind.
Apart from this slight twist to our story, you'll know exactly what you're getting when you work with us.
We're very straightforward, very open, and absolutely on your side.
We're partners in life as well as in work, and to us that makes perfect sense. Architecture is not something that can be left on the drawing board. We're no longer working from the kitchen table, but it's still about the everyday, about the things that matter, and about the bigger picture.
We're now very carefully building a little team around us. We never want to grow too big for the old pump room that is now our studio, and we'll always be deliberately small and tight-knit, but we know that welcoming new voices and new ideas is good for all of us.
Our mission
The places where we live, work and play should be healthy and happy - filled with natural light, connected with nature, giving us everything we need to thrive.
But no two people are the same, so why should our homes, workspaces and social spaces be any different?
We have a simple mission: to create a place that starts with you.
We dig deep. We listen intently. We want to understand the way you live, to know what matters to you.
Context is our inspiration too, whether that's a busy city or the smallest hamlet, the deepest forest or the wildest coast. We relish getting to know your surroundings and drawing these into our design process.
We care deeply about how our buildings and interiors are made, which means turning materials over in our hands, thinking through the detail, and debating the finer points of craft.
Team
Between us we have over 40 years' experience of everything from York Theatre Royal and the café at Westminster Abbey, to a public library in Madrid, to houses that are everything their owners ever dreamed of.
We've left behind the more bureaucratic, sometimes cumbersome elements of the larger practices which launched us as architects. But those years opened our eyes to the possibilities of architecture and gave us a solid grounding, as well as confidence and ambition. Now we relish the freedom of being George & James.
We still work on complex, ambitious projects, but we do it our way. While rigour and efficient systems are as important as ever, there's always space for an independent spirit, our best selves, and a readiness to get stuck in.
Our different perspectives bring a great deal to the studio, and we love bouncing ideas off each other and putting our heads together when a problem seems particularly knotty. Those are some of the very best things about being the small, resourceful team we are.
Simon
Simon's great strength is his emotional intelligence, and our clients tell us they immediately feel comfortable with him. He's worked with Cadogan Estates and Michael Kors, but for him it's not all about a name or high-profile project – it's about forming strong relationships with clients and working with them to achieve everything they hope for.
'A delight to work with'
John and Mary
'Simon's management of the whole process was seamless and efficient'
Aled and Francesca
'Simon was so helpful and thorough with our project'
Hannah and Jonathan
Darren
Darren has an analytical mind and an eye for the tiniest and trickiest of details. He's worked for Panter Hudspith and for Allies and Morrison, and this impressive CV has given him more than just a proven track record. One of his first projects at George & James projects was a new home for one of his former directors – a true vote of confidence in his ability to do a brilliant job for the most exacting of clients.
'Darren has a great eye for detail'
Nanathini and Stuart

'Darren understands what it takes to make a really good building''
Graham

'Communicative, creative and very personable'
Vivienne
Both of us studied at the University of Portsmouth, and both of us have the same string of letters after our names – BA(Hons), DipArch, MA, ARB, RIBA. We've returned to Portsmouth as visiting tutors, and the combination of running our own practice and teaching suits us well. If we're teaching, we're always learning.
If you'd like to find out more about our qualifications and experience, do have a look at Simon's LinkedIn profile here and Darren's here.
Adriana
Adriana spent quite a few years running her own practice before being drawn back to the company of like-minded fellow architects and the joy of a shared mission. She's remarkably versatile, and she's as much at home on smaller and more personal residential projects as she is on bigger hospitality and public-sector projects, where having a good handle on everything and everyone is crucial.
There's a geographical breadth to her experience that we appreciate too. She's worked in Colombia, across various parts of the Caribbean and in Spain, and she has degrees from the Universidad de los Andes in Bogota, and the Universidad Politécnica de Madrid and the Universidad de Navarra.
Here in the UK she quickly got up to speed on the way we do things – our planning system, our building methods, our contracts and regulations – before diving in as a freelancer and then setting up her own company. And now we're delighted that she's brought her efficiency, open-mindedness and technical expertise to our door and found a place at our table.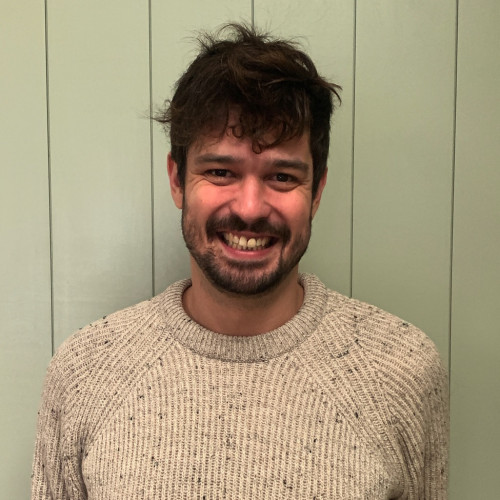 Ioannis
Ioannis enjoys making. He studied woodwork and metalwork before studying architecture at Kingston University, where he spent most of his time in the multidisciplinary workshops there. At Go Hasegawa & Associates, he made hundreds of precise models searching for harmony and balance in their forms. He developed his craft at Jonathan Tuckey Design by making drawings and models exploring the layers of history and time that make up the fabric of our built environment.
As well as working in the UK and Japan, Ioannis has lived in Spain and Austria, where he enjoys walking in nature or in the city with a sketch book and camera in hand, hoping to capture the essence of a place.
Ioannis has also worked in hospitality. He cares about people and their experience and through his careful reading of a site and tactile design process he aims to integrate people with their landscape giving them a sense of belonging.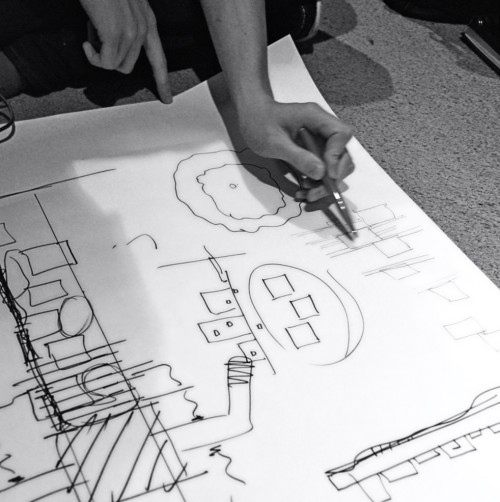 Process
No two projects are the same, just as no two clients are the same. So talking about process and listing the services we provide will never give you the full story. Our role is as much about listening carefully, thinking deeply and being human as it is about jumping through hoops and getting your project to the finish line.
And yet… A clear process gives us an easy way of keeping things on track, keeping to budget, and bringing every element of your project to a beautifully choreographed conclusion.
A clear process also gives you, our client, an easy-to-grasp handle on what's happening right now as well as what's going to happen next. We like to take the weight off your shoulders, but we don't want to leave you in the dark.
Collaboration – with structural engineers, party wall surveyors and other experts – is key to the way we work. On larger projects we might bring them on board earlier than on smaller projects, but, whatever the project, we make the most of other people's knowledge, skills and valuable perspectives whenever we can.
One more thing: we love being involved at every stage, because that way we can really look after you throughout. We want to be there for the big decisions as well as the small ones (and sometimes the smallest ones are the hardest). But if you just need us for part of the process, we might still be able to help. So do get in touch.
Our alternative guide to the RIBA Work Stages
We base our process on the RIBA's tried, tested (and very much trusted) Plan of Work. If you've clicked through and baulked at all that detailed information, you might want to check out our rather more human-friendly guide below. We hope it gives you a good idea of what to expect as well a welcome sense of how much there is to enjoy.
RIBA Work Stage 0 Strategic Definition
We help you grapple with the big questions. What are you hoping to achieve and where are you trying to get to? And is a building project even the right way of getting there?
RIBA Work Stage 1 Preparation and Brief
The questions get a little more personal at this point, and if we haven't met you already, we definitely want to meet you now – along with your partner/family/dog/colleagues/customers (depending on the project, obviously).
You can draw up a wish-list as long as you like and tell us all about your must-haves, nice-to-haves, and most-definitely-nots. We soak it all up and still want to know more.
We explore your site. If it's your existing house and garden, we investigate every nook, cranny and irritating detail. If the site is a muddy field, we're just as interested – pacing up and down in our wellies, breathing in the air, absorbing our surroundings, and working out where the sun rises and where it sets.
We bounce ideas around with you, and throw out some figures too. What might be possible? How much is it likely to cost? How long might it take? Together we agree on a way forward and begin to hatch a plan.
RIBA Work Stage 2 Concept Design
We love this stage, and you will too. We start sketching furiously and giving shape – on screen and on paper – to the ideas we've discussed.
On the one hand we're drawing on our experience of every project we've worked on. On the other, we're leaving all that behind and coming at your project completely fresh, thinking far outside of any box and focusing entirely on you.
We feel our way around different concepts with 2D drawings, 3D drawings and models (out of cardboard and anything else that helps conjure up our vision). We think about how the spaces will feel, put together mood boards, and even come up with ideas for furniture.
Right now, everything's more than a little rough around the edges and very much up for discussion (and there'll be a lot of that). But your positive, enthusiastic reactions at this point are usually enough to tell us we're hitting the right notes and firmly on the right track.
It's not all mood boards and slicing up bits of cardboard, though. We think about time and cost issues, about sustainability, and about health and safety. If we need to test the water with the local Planning department, we do that too.
RIBA Work Stage 3 Spatial Coordination
It's at this point that our drawings have to start doing some real heavy lifting. We drill down to the detail, making sure everything is as buildable and functional as it is beautiful.
We submit the planning application, and if it's a particularly sensitive site, we may do this with the help of a planning consultant. If we need listed building consent, then we apply for that too.
This can be a tense time, but we don't just see it as a hurdle to get behind us. It's about conveying our vision – and every bit of careful thought that's gone into it – to the planners, conservation officers, and of course your neighbours. We want everyone to appreciate and embrace our designs, so our drawings are beautifully crafted and perfectly presented.
RIBA Work Stage 4 Technical Design Part 1
With planning approval now sorted, we pull together all the technical information, coordinate the specialist input from consultants, and assemble a 'tender package'. You can think of this as a very thorough instruction manual, and it gives a builder everything they need to know to price up and then build the project. It has all the specifications for materials, all the technical drawings, and a 'schedule of works', which is basically a long and very detailed to-do list for the project.
By nailing all of these things now, we avoid unexpected costs, unforeseen delays and other not-so-pleasant surprises during the build.
The technical drawings, along with quite a bit of explanatory detail, also go to Building Control, who'll be keeping an eye on building works. If the Planning department has specified certain conditions, we bring these into the equation too.
But we can't forge ahead with the technical stuff while ignoring the softer stuff. It's all part of one cohesive, choreographed vision. So, at the same time as specifying the building envelope (which at its most basic keeps the heat in and the water out), we're talking to you about the finer points of the building. We're turning materials over in our hands, weighing up textures and contemplating colours. And while one eye is on plumbing and electrics, the other is on interior design, lighting and bespoke joinery.
RIBA Work Stage 4 Technical Design Part 2
We send out the tender package to a shortlist of potential builders so that they can understand exactly what's involved and give us an accurate price.
Once we've got the quotes back, we go through them together with you, weighing each one against the others. But picking a favourite isn't all about price. We like to work with people we trust, people who care about doing a beautiful job. Our weighing-up process takes all that into account too.
Then we prepare a building contract for you and your chosen builder to sign.
RIBA Work Stage 5 Construction
At last we're on site. We keep a close eye on the contract and on what's happening, making sure everyone – and everything – is on the same page. We check on progress and on quality, keep track of cost, oversee health and safety, and certify payments to the builder.
We visit the site and give you regular updates, explaining what's going on in frequent progress meetings, and through written reports, photographs and impromptu conversations.
We're your 'contract administrators' as well as your architect, and you can think of us as the go-between, answering questions from all sides and keeping everyone moving in the same direction.
We can't promise that real life won't throw up the odd problem, but we can promise that we'll jump to attention with the first hint of something unforeseen. We're here to shoulder the stress, keep the big picture in mind and ensure that every element is true to the design.
When the builder gets to the end of the schedule of works, with everything ticked off to our satisfaction, we give you a 'practical completion' certificate. The builder, meanwhile, gets sign-off from Building Control.
Then the builder moves out and you move in.
RIBA Work Stage 6 Handover and Close out
You're in, but for a year or so it's not unusual for the odd thing to need sorting or fine-tuning – snagging, as it's known. We're still here for you, and we work with the builder to resolve any loose ends.
Once those loose ends are dealt with we issue a final certificate, which is another step on from the earlier 'practical completion' certificate. Now you can pay the builder's last invoice and sit back, safe in the knowledge that everything's just as it should be.
RIBA Work Stage 7 In use
It's time for you to get on with the business of enjoying what we've created together.
But don't forget us. We hope you'll invite us over some time for dinner or even cocktails. We'd love to see your new spaces in action and hear you talk about anything – or everything – you particularly love about them.
And because we're as geeky as we are creative and sociable, we'll evaluate your building's performance. Doing that helps us understand the impact of our work, keeps us learning, and means we can check your building is keeping you warm and comfortable, in just the way we intended.
FAQs
Nothing we do is 'off the shelf', so it's difficult to give off-the-shelf answers. But we've done our best to answer the questions that pop up most frequently.
If you still have questions, pick up the phone or send us an email.
Your building project could be one of the biggest investments you'll ever make. It's important to get it right and know you're in good hands. Of course you could get a builder to draw up some simple plans and set to work. And for the simplest of projects that's a reasonable way forward.
But if you really want to create something that fulfils everything you could wish for and more, then you'll want to work with an architect.
Architects train hard and know their business. As a profession, we're creative as well as technically minded, and we're as invested in the process as in the outcome. We see ourselves as problem-solvers, and we're experts at transforming ideas into tangible buildings.
When you hire an architect, you know where you stand. All architects in the UK have to be insured and registered with the Architects Registration Board (ARB).
At George & James we're also an RIBA Chartered practice, which means we follow the Royal Institute of British Architects' Code of Practice and are fully paid-up members of the RIBA.
It's not just about finding someone who has a good track record on similar projects, but of course it's always useful to see what they've done. Our past projects are here.
It's more about finding someone who shares your aspirations and your values. If you want to get a good sense of what's important to us at George & James, have a look at Our mission.
Once you're confident that you're a good fit on paper, it's time to start a conversation. Think about whether you want to work with them. Do they listen? Do they ask questions? Do they take your worries on board and give you the reassurance you're looking for? Do they explain how they work without resorting to jargon or whitewashing the process? If you'll be working with members of their team, can you talk to them too?
You'll be working closely with each other for a while, so you need to enjoy their company. In the end, it's probably your heart, rather than your head, that will make the decision for you.
You can see some of the lovely things our clients say about us here.
For us, just like for you, it's mostly about being a good fit. If you care about good design and about how a building makes you feel (as opposed to simply how many bedrooms it has and what the value is), we're likely to see eye to eye. And if you're hoping for something out of the ordinary, that's a great starting point too.
We take on all sorts of different projects – new homes and old homes, interior refurbishments and transformative extensions. And we're always interested in working with independent businesses and community groups who want to improve their shops, workspaces or workshops, yoga studios and other spaces. So it's less about the 'what' and more about the 'who'.
Most of our projects have budgets over £150K. Below this amount, the sums just won't add up for you or for us (unless you'd just like us to develop a design and get planning permission, in which case it's worth seeing if we can help). We're always honest about the costs upfront. We won't underestimate the costs to get the job and then give you a nasty surprise. That wouldn't be good for you, and it wouldn't be good for us.
Yes, we worry too, and we take our responsibilities very seriously. We don't call ourselves 'eco-architects', and we're actually a little wary of the label – all designers have this responsibility and it should be part of the way every one of us thinks, lives and works.
We're always looking for opportunities to create better performing, more sustainable buildings. And sustainability isn't just about lowering your heating bill. It's about what goes into a building (its embodied carbon) as well as the energy the building needs to function well (its carbon footprint).
It makes sense to reuse and repurpose rather than start from scratch, so if we can put to good use what's already there, we will. And when we're choosing new materials we ask our suppliers difficult questions: where did this come from, what went into making it, and how did it get here?
Then we'll be looking for ways to make the most of a building's orientation. If we can welcome in the winter sun and hold onto the heat it leaves behind, you'll be blessed with a warm, bright space that lifts the spirits in the depths of winter. If we can provide well-positioned windows and natural shade, you'll thank us on the hottest summer days. We get all of that right, and then – if it's needed – we put in place the most appropriate renewable technologies to do the rest.
If all of this strikes a chord, then let's talk. And if you have very particular environmental aims or are keen to try something new, that's an even better reason to put our heads together and start a conversation.
No, and yes. In other words, it's completely up to you.
We love being involved from start to finish: coming up with ideas, working out what's possible, taking the designs through the planning process (including listed building consent), doing the detailed drawings, and overseeing construction.
We'll help you find a good builder, act as contract administrators, and be there to hold your hand (in the reassuring, supportive sense of the phrase) at every stage. Just as importantly, we can design bespoke joinery for you, find the perfect people to make it, and design the interiors – down to every last, beautiful detail.
We'll still want to talk things through with you and share the excitement of each part of the build. But you won't wake up at night worrying about the window measurements not being quite right, or the electrician not turning up.
On the other hand, you might be excited about going it alone once we've developed the design and got planning approval, and that's possible too. (And we'll still be cheering you on, but from afar.)
Or you might want to take it one step at a time. We can test out ideas with you, establish whether they're feasible and affordable, and then you can decide whether to take it further.
You can see more about how we work – and the different stages – on our Services page.
We can't tell you exactly how much we charge without first finding out about your project. If we could we'd be trying to fit you inside a box, which isn't how we work. But, to give you a ballpark figure, our typical fees range from 8 to 15% of construction costs.
It all depends on the size and complexity of your project, and how involved we are. And it's not always worked out as a percentage. It could be a fixed fee, a time-charge fee, or a percentage fee – depending on your project and how we can give you the most value.
All we can say for certain is that good design – and good project management – really is worth its weight in gold. We save you time, money and worry. We get the design right before construction starts on site, which means a streamlined process, no costly changes, no time wasted, much less risk, and a happy builder.
And that's just the start – good design is something you'll appreciate every day, and for years to come.
It's difficult to say until we know more. But we'll be happy to show you examples of our past projects and give you an idea of the figures involved. That should give you a bit of context as well as the reality check you might be looking for.
And there's one thing that we can say right away: it's as important for you to be honest with us about your budget as it is for us to be upfront with you about costs. If we all know where we stand, we can keep our feet firmly on the ground while dreaming big and aiming high.
Then, once you've talked us through your own aspirations as well as your budget, we'll be able to work out exactly what's possible for you.
We'll explain the different things – and people – you'll need to factor in: planning application fees, building control fees, a structural engineer, maybe a party-wall surveyor, and of course construction costs, which will vary depending on the site, location, design and level of specification.
We can even drill down to the cost of furniture (both built-in and free-standing), curtains, blinds, landscaping, and all those other things that make a place both liveable and functional. You may not be ready to think about them right now, but we know they're a crucial part of getting you to the finish line.
Here's another question which is almost impossible to answer. A small and relatively simple – but still beautiful! – extension might take 12 months from start to finish. A new-build house could take around two years. But sometimes the planning process can cause delays, and sometimes the perfect builder isn't available for another few months (but is definitely worth waiting for).
We don't cut corners, so you'll need to allow time for the project to run its right and proper course. We'll provide you with a programme at the start of the project, and we'll constantly be measuring this against how things are progressing in real time. Our job is to build flexibility into the schedule, anticipate issues that might lead to delays, and keep a close eye on any hold-ups.
You'll need to allow time on a day-to-day level, too. Creating a bespoke building that fits you like a beautiful, comfortable glove is a collaborative process, and we need you as much as you need us. We'll be asking questions, running things by you, and coming to the right decisions together. We know that takes time, but we also know that it's time worth spending.
We don't have a specific design style, and we come to your project with an open mind. It's all about getting to know you, getting to know your site (its hidden quirks as well as its clear potential), and understanding the context. We talk more about this in Our mission.
Just one caveat: we admit to being drawn to spaces that are timeless and understated, functional yet beautiful. So if you're after a mansion with excessive ornament and a good deal of bling, we're probably not the architects for you. We like buildings that make the most of light and air – buildings that make you feel good.
We're lucky enough to have a lovely studio not far from the market town of Midhurst, West Sussex, in the heart of the South Downs National Park. We believe in community, in spending time on our doorstep, and in getting to know our neighbours. So if you're in our neck of the woods, get in touch.
But we also like to keep our horizons wide, and we have projects in many corners of London and the South East. In fact, if it's the right project and the right client, we'll work almost anywhere.
We'd love to hear from you if your mission fits with ours.
Get in touch
Subscribe to our blog mailing list