What could go wrong with my project?
07 December 2021 by Darren Leach
We often think of ourselves as being risk-averse, in both our personal and our professional lives. When we delve a little deeper – without getting too Freudian on you! – this is partly down to our past experiences, but also our training and careers this far. You will probably be surprised to hear that our clients tend not to ask us what could go wrong with their projects, but we firmly believe we have a professional obligation to share the potential risks with them from the outset of our conversations.
We will, of course, do everything we can throughout the design process to eliminate these risks, or reduce and mitigate them where this is not possible for a legitimate reason. With that being said, there is no getting away from the fact that buildings are complex. Whilst this approach can come across as pessimistic, our proverbial glasses are very much half full. We know that working with the right people, with mutual trust and good communication all round, produces the best results in life and business.
Having racked our brains, we think that most problems with building projects can be categorised into one of three areas: approvals, defects and procurement. On top of these, there are also 'acts of God', which are outside of human control, which would include pandemics! Without getting too political, Brexit and the climate crisis are anything but, but are similarly unpredictable.
Approvals
Chances are you project will require some sort of approval from the statutory authorities, most commonly Planning and Building Control.
With Planning, unless you are absolutely sure that you do not need Planning Permission, you should always have their agreement in writing before commencing building works. This is particularly important when working in Conservation Areas, National Parks and the like, or with Listed Buildings which are protected under criminal – as opposed to civil – law. Building without planning permission where it is required could at best get you a slap on the wrist, or at worst end you up in prison, with a myriad of financial penalties in between.
Whereas with Building Control, particularly on smaller projects where a Building Notice will most like have been served to the Local Authority, it is not often until the end of a project when trying to get the project 'signed off' where shortcomings become apparent. Before construction, your architect – working with other consultants as necessary, most likely including a structural engineer – will ensure their design meets the Building Regulations. During construction, your builder should liaise frequently with the Building Control Officer.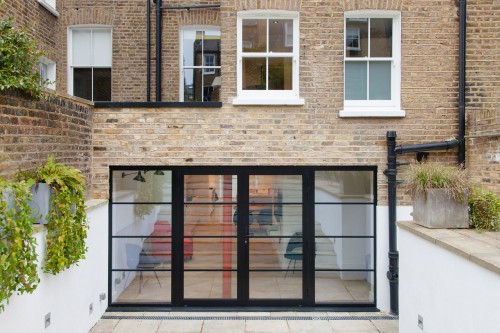 Defects
As I mentioned previously, buildings are complex things. At a fundamental level, they should keep the water out and the heat in, which is not easy! Some problems – or defects – with the building fabric are not immediately obvious (latent defects), so always use a Building Contract that includes a Defects Liability Period, or similar. This means that the builder will have to come back and fix these within a period of time, and that you will hold back some money until this has been done to your satisfaction.
Using innovative or reclaimed materials carries additional risk, but your architect or builder should be able to advise you further, with specialist input from the supplier if required.
Procurement
We have worked with some excellent builders in our time, but sadly we have had our fair share of cowboys. Without us having to resort to telling you horror stories, following these golden rules should keep you out of trouble. Hire a reputable builder… only after taking up references from previous customers and their trade association (The Federation of Master Builders being just one). Use a building contract… WALK AWAY if they are not prepared to sign one. Ensure they are insured… ask to see a copy of their certificate, and phone their insurer to confirm its authenticity. Be wary of deposits… if they ask you for one, be sure to get an invoice and a receipt itemising what it is for. Go with your gut… if something does not feel right, contact Citizens Advice before doing anything.
Last but not least, some of these might be covered by insurance… be it yours or your builder's, or far less commonly our Professional Indemnity Insurance. A lesson for life: read the small print! We have been known to pick up projects from other architects (with their blessing!) where clients had experienced some of these problems, such as The Grove. If you already have a project underway where things are going south, then it might just be worth you getting in touch with us.
We'd love to hear from you if your mission fits with ours.
Get in touch
Subscribe to our newsletter mailing list