Interior Design
16 September 2022 by Darren Leach
We are thrilled to now offer interior design as a standalone service. This is always something we have included in our full service architectural projects, but now (due to demand from our wonderful clients), this is now a stand-alone service available to all.
As designers we always enjoy helping our clients transform their homes, using our knowledge and expertise to unlock the potential of a space, improving the look, feel and functionality of a home. We often do this with architecture and structural changes, but it is amazing what can be achieved without any architectural work needing to be undertaken.
We are now able to offer our interior design services to suit the level of needs of our clients, for example we can help you with just for one or two key rooms, or we would be thrilled to help you refresh your entire house. With our knowledge and supplier contacts, we are able to source the perfect fixtures and fittings to complete your home.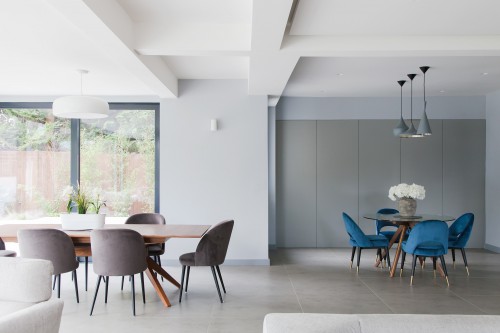 Woodfield Hill
At Woodfield Hill our client had an unusual request, in this case his house was too large! Although to many of us this might not seem like much of an issue, in this case the ground floor was an expanse of space that made the house feel uninviting and cold. The ground floor was mainly one open plan space and our client found it overwhelming with the interior design, he did not feel confident to fill the emptiness to be able to create a homely feel.
We set to work, and with the help of carefully chosen furniture, beautifully crafted joinery, the perfect paint colours and the transformative power of lighting, we made the house feel human. By carefully creating different 'zones' we have broken down the unwieldy expanse of space, to create a dining space, living area and kitchen within the open plan.
Slaithwaite Road
Having already worked with our clients at Slaithwaite Road, to architecturally transform the kitchen and dining area of the house, we were appointed again to work with them on the interior design of their existing living room. When they had moved in the decoration was not to their taste so they knew they wanted to redecorate, but with our help we added a few clever interventions to help make the room feel more spacious, and helping to deliver a cohesive feel across the entire home.
'Furnishing a lounge is something that in principle we were perfectly capable of doing ourselves but there's no way it would have come out looking as great as this.'
If you have any interior projects that you need some assistance with, do please get in touch, we would be delighted to discuss your next project with us.
We'd love to hear from you if your mission fits with ours.
Get in touch
Subscribe to our newsletter mailing list