Importance of Light & Air
16 December 2021 by Simon Drayson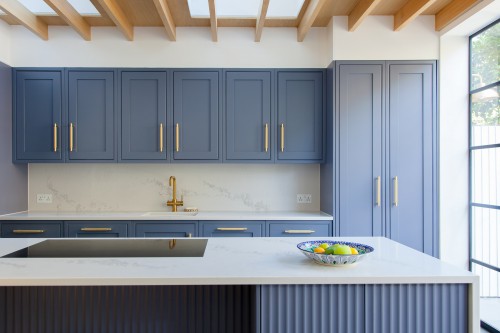 When taking a brief from a new client, the words "light and airy" often come up, translated into 'archispeak' as natural light and ventilation. Not only are these great for energy efficiency (with less reliance on carbon heavy mechanical means) but they can work wonders for our wellbeing. Whilst we have written previously about how an architect can improve your home and your wellbeing, it is a subject dear to our hearts and well worth revisiting from time to time.
With us spending 90% of our time indoors – two thirds of which is in our homes – getting these factors right is of paramount importance. This is particularly true during the Covid-19 pandemic, where these figures are likely to be higher, with many of us working from home again.
In fact, the now all-too-familiar World Health Organisation reported way back in 2018 that "Improved housing conditions can save lives, prevent disease, increase quality of life, reduce poverty…" and that "Housing is becoming increasingly important to health due to demographic and climate changes".
The irrefutable link between housing and health is nothing new, as proclaimed by Florence Nightingale over a hundred years ago: "There are five essential points in securing the health of houses: 1) Pure air; 2) Pure water; 3) Efficient drainage; 4) Cleanliness; and, 5) Light. Without these, no house can be healthy". She then goes on to prioritise fresh air, with natural light coming in a close second, as ways of healing her patients in hospital. We say, why wait until you get sick?
"George and James Architects have created a light, open and sociable space - a new focal point for the house and our family, and exactly what we were looking for."

Aled & Francesca
Importance of Light
On light, being in tune with our circadian rhythm has a massive impact on our sleep patterns and energy levels; good design should embrace both daylight and sunlight, supplemented with electric lighting only when absolutely necessary. For our Alloway Road project we transformed an existing Victorian closet wing by altering the window openings to maximise daylight and views, whilst at Barnsbury Road we utilized large expanses of glazing whilst minimising solar gain and heat loss owing to its northward orientation.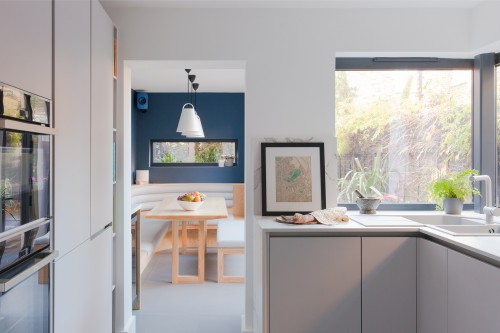 Having ourselves recently left our dark and stuffy – I exaggerate! – flat in central London for a house with a garden in semi-rural West Sussex, we can speak from personal experience about the impact of light and air on your physical and mental health. Architectural training places a great emphasis on light and air, as exemplified by the renowned Modernist Le Corbusier. amongst others. In addition, RIBA Members must cover 'wellbeing' as part of their Continuing Professional Development.
Various data and standards have been introduced to the construction industry in recent years in an attempt to try and quantify this intangible notion of wellbeing; perhaps most notably the WELL Building Standard for public buildings, and the Home Quality Mark for new-build homes alongside the annual Healthy Homes Barometer for existing building stock. The Green Building Council's report on Health and Wellbeing in Homes lists light and air as key ingredients to a 'healthy' home, alongside more abstract concepts such as designing in resilience (adapting to changing occupant requirements and climate change) and enabling people to flourish.
Importance of Air
On air, there are two main issues when it comes to indoor air quality: internal pollutants such as paints containing Volatile Organic Compounds (VOCs), combined with external pollutants such as nitrogen dioxide from vehicles.
For our Arlington Avenue project, we designed a bedroom with cross ventilation for night-time purge ventilation during the summer, whilst at Palatine Avenue placing the study in the garden encouraged the client to bring the outdoors in.
"Their guidance on how to maximize and brighten a rather dark and low ceilinged space [was spot on]. We are delighted with the result which has […] given our home a new lease of life."

Aisling & Ivo
We'd love to hear from you if your mission fits with ours.
Get in touch
Subscribe to our newsletter mailing list