Hidden Costs of an Extension
02 October 2023 by Simon Drayson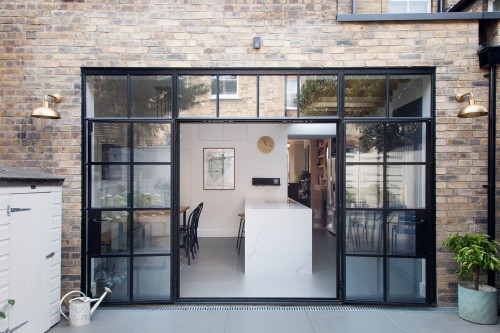 We were delighted to be invited to comment as an expert for an article in the latest Homebuilding & Renovating Magazine, looking at the 'Hidden Costs' to your extension project. The feature looks to help those looking to start an extension project avoid nasty surprises, and unexpected costs during the project, here are some of the key questions they put to us:
Q: What planning fees should homeowners expect to pay if their extension is not covered by permitted development? What does this include and how much would you recommend they budget for this?
Your Local Authority will typically charge you £206 for a householder application. Even if your proposals fall under Permitted Development, you should apply for a Lawful Development Certificate, the fee for which is 50% at £103. Whichever route you choose, you should budget £64 on top of these figures to cover the service charge, so £270 or £167. There is no VAT payable on planning fees.
Q: What about costs for surveys associated with the planning application? What might these be and how much should you budget?
You will need to supply existing drawings to the council alongside your proposed ones. Your architect will need these in any case from the outset of your project. The costs vary depending on the size and complexity of your house, but you can expect to pay somewhere in the region of £1,000-2,000 + VAT. Some architects offer this service in-house, whilst others outsource to specialist surveyors.
Q: As a rough guide, how much should homeowners' budget for design? How do architects charge?
The fees that architects charge varies from practice to practice, and depends on how long your architect remains involved for. For 'full architectural services' you can expect to pay 8-15% of what your project costs to build, split broadly into thirds: up to planning, up to tender (getting quotes from builders), and then during construction. This will likely be a mixed of fixed, percentage and time-charge fees. You can find more details about our fees here.
Q: What about costs to discharge planning conditions? Please can you provide an example of what these might be, and how much to budget?
Each application to discharge a planning condition will cost £34, so if you group several together you only pay once. To give an example, your Local Authority might want to see a physical sample of the material you are proposing. It would be prudent to have this approved in writing before your builder orders materials and starts building. If you need to submit more than one sample you should send these together.
Q: How much should homeowners set aside for build over agreements and drainage plans (if they are required)? At what point in the build would homeowners find out whether these costs apply to their project?
This very much depends on your water provider, but this typically costs between £500 and £1,000. Your architect or structural engineer should be able to provide the required drainage plans, but will probably charge you additional fees for their time to put these together. At the outset of your project, you should undertake a drainage and water search to determine whether or not this is required; this will likely cost you £50 to £100.
Q: How much does it cost to get a Party Wall Agreement? And, at what point in the project would the homeowner find out that they need to factor this outgoing in?
Party Walls are complicated, so you should always seek advice from a Party Wall Surveyor at the earliest possible opportunity. It is a common misunderstanding that you only need to do this if you are joined to your neighbour's house, but this also comes into play if you are building up to the boundary or digging foundations near their property. Initial notices should cost circa £100 per side, with subsequent awards costing upwards of £1,000 each.
Q: How much will Building Regs cost, if it's not included in the build package?
It is unlikely that your builder will absorb this cost, but they may have a preference for using the Local Authority or a private 'Approved Inspector', which is worth discussing with them although costs are similar. Their fee will very much depend on the size of your extension but you should budget £800 to £1,000 as a starting point. Your project may be suitable for a 'Building Notice' which – perhaps surprisingly – does not actually require any drawings!
Q: Are there any other areas, in your experience, where homeowners might be tripped up by hidden costs when building an extension?
If you live in an old property close to woodland, you may need one or several bat surveys, which can cost £500 to £1,500 all in. You should check your builder's quote with a fine-toothed comb, being sure to check whether or not VAT is included, and interrogating anything that is missing or any provisional sums. Last but not least, you should budget for 10-15% contingency, especially with existing buildings!
Published costs correct as of 30.06.23
The full article can be found in Homebuilding & Renovating October 2023
If you have a project that you would like to discuss with us, contact us to start the conversation.
We'd love to hear from you if your mission fits with ours.
Get in touch
Subscribe to our newsletter mailing list