Can I still afford my dream home project?
23 December 2022 by Simon Drayson
There have been increases across the board on the cost of building, alongside shortages of labour and materials, it might seem a daunting time to start a self-build project. However, there are ways you can work with this and still achieve the changes you might need to your home.
Firstly, it is important to be honest about your budget, and stick to your absolute limit. As architects we always want to design the best for our clients, but this has to be done without putting anyone into financial difficulty. Be honest with your architect, if your absolute budget is £250,000 total or if there might be an additional £20,000 hidden away for contingency and getting the best fixtures! It helps to be total transparent with your design team, so they can design the best for your budget.
Be realistic
It is important to be realistic with what your budget can get you in the current climate. As a very rough guide the true costs WE are seeing, for the level of craftsmanship and finish that people come to us for, are somewhere between £3,500 - £4,000 per sqm. It is possible to get a home built for less, for example checkatrade quote the average build costs as between £1,775 and £3,000 per sqm, but it does not go into details about the exact work done, the quality of the build or the materials used – for example simple uPVC windows will cost a lot less than timber (as we used at The Farmhouse) or aluminium (as we used at Slaithwaite Road) but will not have the same visual impact.
When you work with an architectural team you get our knowledge and experience, helping to create a home that works for you. We take time to understand your needs, to study the property and analysis its context, in this way we are able to find the right solutions that maximise the potential of the site.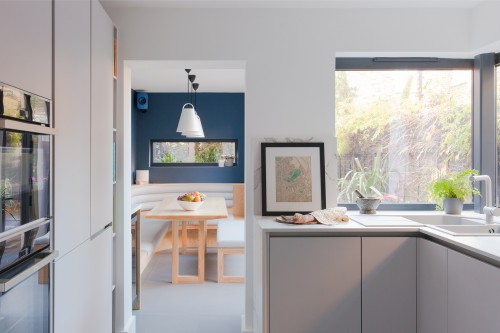 Ways to save money
It is possible to make savings on a build budget, and it is an important exercise we should all do when undertaking a large project such as a self-build project. There will always some areas that you can make sacrifices in, without losing the integrity of the whole design, in order to reduce the overall budget.
The first thing to look at is the size of the development and if you really need to build it as large. Often houses have all the space their owners need, but the valuable space is lost though a badly planned layout and owners assume the only way to solve their problems is to extended and increase the overall footprint of the house. At Alloway Road we were able to transform the ground floor, to deliver an open planned kitchen / diner and create an ensuite master bedroom upstairs, all without extending the property.
Additionally, a good contractor can help save you money, they can often create the look and feel of an expensive kitchen, or bespoke furniture at a much reduced rate. At Palatine Avenue we installed IKEA wardrobes, but with bespoke fronts to give a high-end look and feel.
Phased approach
Another way you could achieve your dream home is by looking at a phased approach to the build. Be honest with your architect and contractor and discuss if it is possible to break the build down into chunks, for example maybe you can get the ground floor completed but the loft conversion will be delivered in a second phase.
In this way your contractor will be able to include all aspects like structural changes and additional electrical supplies, in the first phase, ready for the second phase to start. In this way it reduces upheaval of your home, and can reduce the time and money needed to start each project independently of each other. Lavender Road One – with its two-storey rear extension and loft conversion – could have been done is this way to avoid the client having the move out during construction, but as it happens they had a pied-à-terre over in Canary Wharf!
Financing
It is amazing what financing options are now available for self-build projects, which might be a sensible way to help you achieve your build project. As we work with many different clients on varies different types of projects, we have plenty of experience in this area and are always happy to share our knowledge. For example, if you have decided to have a phased approach to your project you can look to mortgage on the value of the property after the first phase has been completed, allowing you to release enough equity to complete the second phase.
Design now, build later?
If your budget is just not going to get you what you need at this time, and anything less than that is not going to practically work for you, then maybe building now is not the right time. It is however, still possible to get started on the design process of your project.
By engaging with an architect, you can look at design options and even get your planning permission sorted (which stays valid for 3 years without you having to start the building work) which might give you the time needed to make the budgets work for you.
If you would like to discuss any aspect of this article with us, or you want to start planning your next self-build project, then do get in touch we would be delighted to hear from you.
We'd love to hear from you if your mission fits with ours.
Get in touch
Subscribe to our newsletter mailing list