Bricks!
06 April 2023 by Simon Drayson
Bricks are one of the most commonly used building materials in the UK. Due to their durability, the abundant source materials, its relatively low embodied carbon, minimal maintenance and its good insulation qualities, it is a very sustainable choice for your next building project. Despite all these positive qualities, bricks are often overlooked in contemporary architecture in favor of alternatives.
However, bricks, when used well, can offer a hard wearing material that brings a beautiful warmth to a building, it is definitely a material that shouldn't be overlooked.
Colour
A lot of the UK housing stock is made up of unimaginative housing estates constructed mainly with very basic bricks in either a red or buff, depending on where you live. Because of this, the common brick does not always inspire people as the material of choice.
However, it is possible to find different colour bricks, such as various natural shades of grey, white, buff, yellow and even blue bricks, all of which can give a dwelling a very different look and feel. These can really change the finish of a home, for example a dark grey brick can work as a wonderful backdrop to enhance the landscaping of a garden.
At Wellfield Avenue, which is currently under construction, we are using a contrasting dark grey brick to emphasise the extension. This allows the architecture of the house to be easily read, with the original house left intact in traditional red bricks. The grey bricks are also in the garden landscaping, helping to connect the two spaces and visually extend the kitchen and dining area out into the garden.
Dimensions
There are so many different types of bricks, that come in a variety of dimensions, you do not have to automatically use the standard brick with dimensions of 215mm (w) x 102.5mm (d) x 65mm (h) (slightly smaller than the imperial-sized brick found in pre 1965 houses.) By changing the dimensions it can have a big impact on the visuals of a home subtly.
Wienerberger produce handmade bricks that are longer, and slimmer than the UK standard brick. By using a brick like that it can have a dramatic effect on the look of a building, helping to emphasis the vertical. The bricks are also handmade which gives an imperfect perfection to the finish, adding an additional element of interest.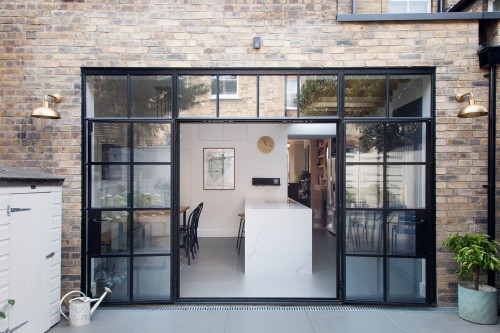 Reclaimed Bricks
Some say that bricks just get better with age! It is true that this hard wearing product is easy to re-use, and reclaimed bricks can add a beautiful worn, warmth to a home. Modern bricks can often appear a little too crisp in some instances, a reclaimed brick can offer a beautiful texture that softens a new addition.
This can be especially important when working in a conservation area, or just trying to integrate a new addition to a home with the original building. When working at Clissold Crescent we used reclaimed bricks to match the existing rear elevation, allowing us to extend the home and unify the rear elevation with the work appearing seamless.
Barnsbury Road we used reclaimed bricks to extend the external garden wall, which gave us the additional height we needed to extend the kitchen.
Finish
Bricks can be made in a variety of ways, each creating a different finish to the end product. There is of course the material used, normally clay or cement, along with the method of baking the brick that can have a big impact on the end product.
Handmade bricks are great for creating texture, as they offer a softer appearance which can work really well for internal detailing. Wire cut bricks have a much sharper edge to them, which is perfect when trying to achieve a very crisp finish.
Brick Detailing
It is possible to use bricks as a way of creating interesting details, when working with skilled craftsmen you can bond the bricks to make the brickwork far from boring. There are many ways to bond bricks, which can add beautiful details to any home.
At Lavender Road One we introduced a brick patten to visually breakdown, what could have been an uninteresting external wall. We created a panel of darker bricks, laid in a simple patten with some bricks laying slightly proud of the main wall to add an extra dimension to the brickwork, this simple detail creates ever changing shadows throughout the day across the wall.
Perforated brickwork, where large holes are left in the brickwork running from the top to bottom of a wall, work effectively to offer natural ventilation and light into a building without compromising on security. This form of bonding can also be used creatively in landscaping, offering screening and privacy.
We hope this has given you some inspiration for selecting brick in your next home project, if you want to discuss it with us do get in touch.
We'd love to hear from you if your mission fits with ours.
Get in touch
Subscribe to our newsletter mailing list