The Vessel - Bathroom interior design tips, from an architect's perspective
30 June 2021 by Simon Drayson
For many of us, this past year has been as much about looking backwards as it has about looking forward. During lockdown we both took the opportunity to revisit our decade-old academic work in order to help define our mission. For me this including rereading my thesis Sameness, which set out to identify a common architecture of essentiality, by exploring my former two-up-two-down Victorian terraced house (bread and butter for architects up and down the country).
Sanitaryware
We love designing bathrooms, and hate bad ones. Sanitaryware is undoubtably a prime example of where the old adage of "buy cheap, buy twice" rings true. There are lots of online retailers out there, but be wary as product quality varies greatly; we suggest visiting a showroom or, if you are purchasing large quantities for a big project, ordering returnable samples ahead of time. Starting with toilets which are more often than not the last consideration, the main options are close-coupled (whereby the cistern sits above the pan and is visible) or concealed cisterns (where it is hidden behind joinery or inside a wall); the former might be more suitable for a period property, given the option for a high-level cistern with flush chain, with the latter better suited to more minimal modern bathrooms, making them easier to clean and offering additional storage opportunities. It is really easy to incorporate a cupboard for a toilet brush and spare toilet rolls, with the option to add a shelf or cupboard above, which should be removable for ongoing maintenance access. When it comes to flush options, both levers and buttons are available in a range of finishes to match your other sanitaryware, just be sure they are 'dual-flush' (meaning that they will only use enough water for a 'number 1' or a 'number 2'!).
Now that that's out of the way, it's time to discuss the more exciting choices: basins, showers and baths. Vanity units are great for storage, with drawers generally better than cupboards; you can then either have a basin that sits directly on top, or the luxe option of a bowl that sits on a worktop (some clients tell us these are harder to keep clean, but the jury is still out on that for us!). Still to this day, we are yet to find a better value basin than IKEA's Odensvik, which is available in four sizes plus a double option to replicate a hotel. With showers, you will need to pick a tray and an enclosure, unless you are opting for a wet room, or curtain. Trays can be installed flush with the floor, but you will need space for the trap; your architect – or builder – should be able to give you further advice on this. As a minimum we suggest a shower tray measuring 800 x 800mm, unless you have lots of space in which case bigger is better. Enclosures come in many shapes and sizes, with or without doors, in an array of different finishes. When choosing your enclosure or screen, you should think about how far water splashes from not only the shower head but also your body, so it is fit for purpose.
With brassware (the collective term for taps etc), again there are lots of different styles on the market, from traditional to contemporary and everything in between. Whilst chrome is the most widely available finish, others are growing in popularity including: brass, copper, stainless steel and black. Unless you are intentionally seeking an eclectic mix of finishes, it is always a good idea to co-ordinate these throughout, which might mean getting samples from different suppliers to check. This is especially challenging when it comes to basin or bath wastes, traps and overflows. Beware of what my father-in-law calls "Mickey metal" which is when the working parts are coated in a cheaper material to mimic solid metal; this is particularly true of shiny finishes such as chrome and copper, where once again you will most definitely get what you pay for. Taps can either be 'deck' (on the basin or the bath) or wall mounted, and mono (separate hot and cold) or mixer (combined hot and cold), with faucets – where the water comes from – and valves – the bits you turn on/off – in a single or multiple fittings. Whilst shower heads can either be wall or ceiling mounted, the best choice for you might depend on other factors, including your ceiling height and choice of tray and enclosure.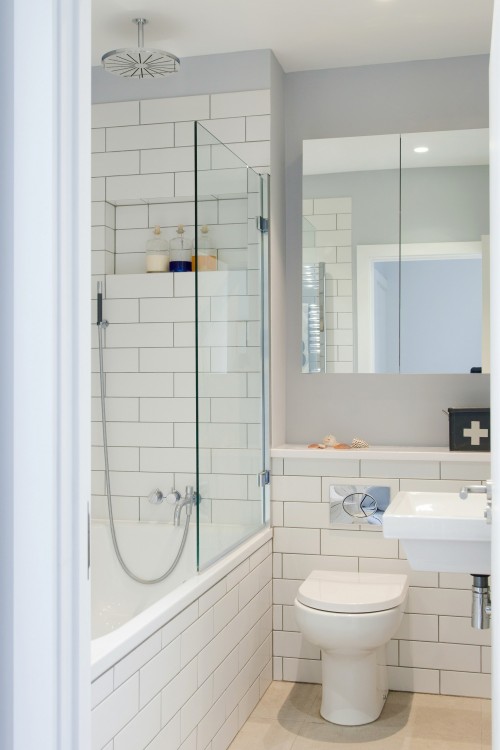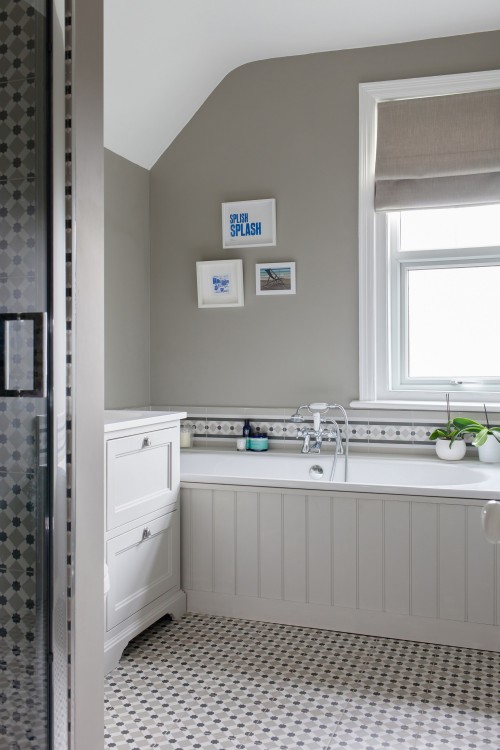 Lighting, power and heating
Like bedrooms, lighting in bathrooms needs to adapt to two different moods: either getting ready in the morning and winding down in the evening. You can achieve this by using a mixture of ceiling and wall (or mirror) lights combined with LED strip lights under cabinetry. With the exception of the light switch which must be outside the room or a pull-cord, other switches (override switches for underfloor heating and extractor fans for example) and shaver sockets can be hidden in joinery for a sleek appearance. There are strict safety regulations governing which fittings are suitable for bathrooms, which an electrician will know better than the back of their hand. We try to avoid using spotlights above the bath or the toilet, as these can make you feel as though you are on stage! Underfloor heating is a 'no brainer' in bathrooms, as are demister pads which stop your mirror steaming up, making shaving after showering a joy to behold! Heated towel rails can be installed on your central heating, with an electric element for warm towels during the summer, to complete that spa-like experience we all love to enjoy.
And just in case you missed our last journal entry, be sure to also check out our tips for bedrooms.
Wall and floor finishes
Whilst tiles may seem the obvious choice for bathroom walls and floors, they can contribute to moisture damage in other parts of the room. As a rule of thumb we tend to restrict these to the areas immediate behind and adjacent to sanitaryware and brassware fittings. This means that you will still have a good amount of wall space for artwork, mirrors and shelves. Tiles can be ceramic or porcelain, and are available in a sometime paralysing choice of colours and sizes, so again get lots of samples. We have used bespoke encaustic tiles on a lot of our projects, which is a cost-effective way to put your stamp on a project, but be mindful that there may be minimum order quantities. You might also want to consider using stone, but may need to 'beef up' your walls and floors, so do speak to an expert in the first instance. Timber is making a comeback in bathrooms as we shy away from man-made materials towards more natural ones; some timbers are more conducive to use in wet areas and should be considered alongside ventilation (think proper Finnish saunas!). If you are concerned about durability, you could try wood-effect porcelain tiles. Whatever finishes you decide upon remember to consider slip resistance of floors, especially if younger or older people will be using your new bathroom.
We'd love to hear from you if your mission fits with ours.
Get in touch
Subscribe to our newsletter mailing list